My inbox contained some wonderful goodies this week!
First up, a nice thank you from one of my recent bridal clients. I restyled the gown worn by both her grandmother and mother, removing the high neck, collar and sleeves along with taking out some of the fullness in the skirt (I'm working on a post all about this process, hope to have it ready to publish soon.) The wonderful words of gratitude from this bride filled my heart:
"I wanted to let you know how beyond wonderful the dress was on our wedding day. It was comfortable, fit perfectly, and people could not stop raving about it. It truly was perfect and exactly what I had in mind- and for that, I have you to thank! I've attached a picture to this e-mail so you could see it on the big day. We had a team of people help with the bustle and I love the way it turned out.

Thanks again for all your help!"
***********************************************************************
Within a day, I had another client send me photos, this time of the two dresses I made for her son's wedding last summer. She apologized for these, but I'm pretty happy to have them because of her smile - evidence that she felt comfortable along with looking good!
My client in the deep peach linen dress I made for the rehearsal dinner....
....and in the silk crepe gown and jacket of beaded, embroidered silk chiffon. The embellished fabric was a gift from a long-time friend who wouldn't be at the wedding, and wearing the jacket was a way to honor that friendship.


The great thing about hearing from this client is that I'll be making her another dress for an occasion this summer. Repeat customers are a great thing.
************************************************************************
I came across a wonderful quote on another blog today (thank you, Carolyn)
"Looking good is not about what size you wear, but how well the garments fit!"
Connie Crawford
I'm working with a client right now who's reminding me exactly why I sew: to create clothing that fits and makes the wearer feel wonderful. This lovely lady is petite in height, and heavier than she'd like to be, and what she wants is to look good for her son's wedding. The bridesmaids are using dresses from "Rent the Runway, an online site where gowns can be rented for the occasion and returned afterward. The bride chose a gown for her future mother-in-law that had the same color and fabric combination as the one the maids were using, but the style would never have worked for her body shape. It was a fitted bodice in black lace with a peplum, over a ballgown-full tulle skirt in nude. Really?
photo from renttherunway.com


This woman needs vertical lines to elongate, a v-neck to draw the eye toward her face, not a horizontal line dividing a severe color contrast, right at the widest portion of her figure. And she knew it - her choice, from the same site, would have been this - but the bride wasn't happy with the color.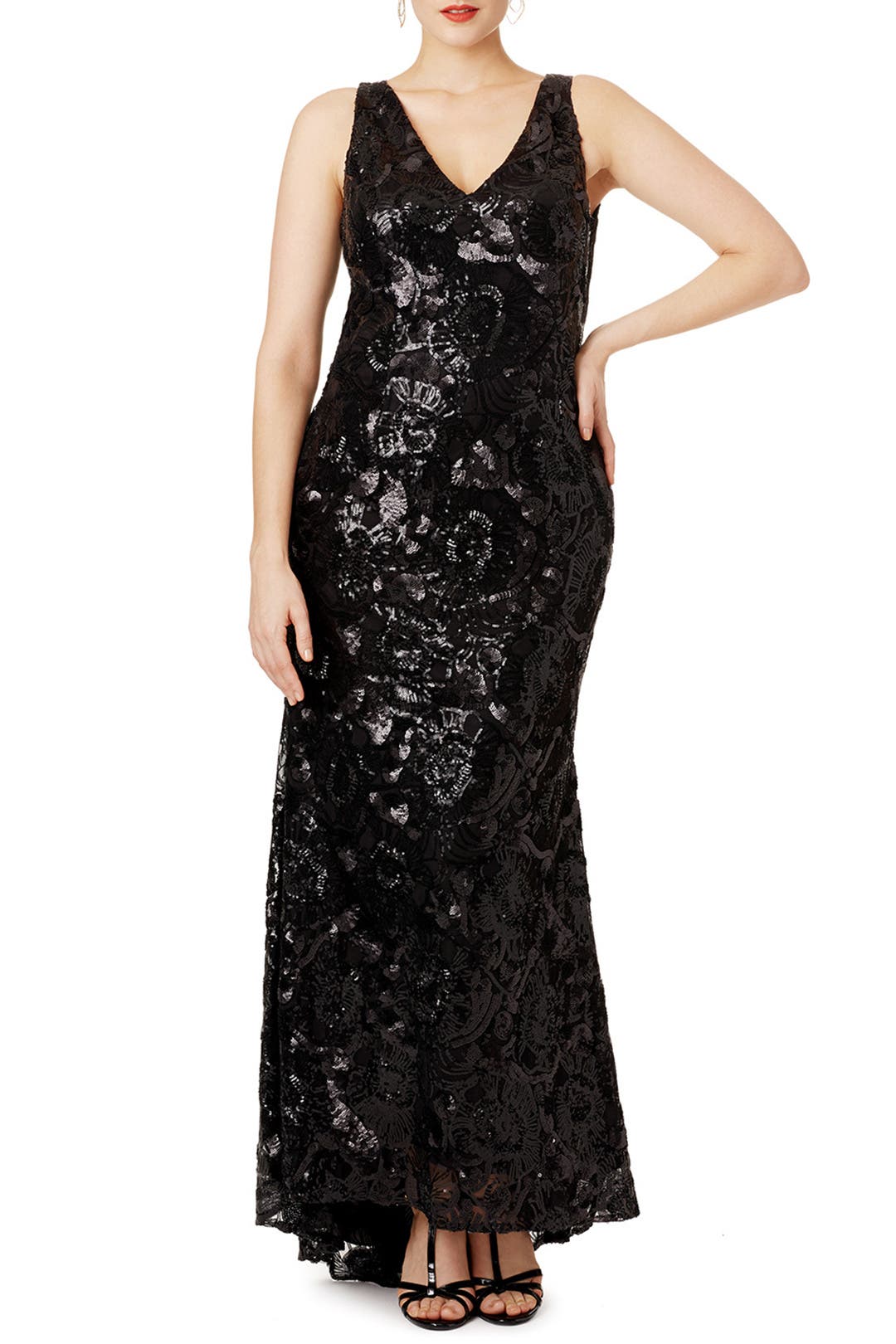 photo from renttherunway.com
She asked if we could make her a flattering gown, using black lace over a tan fabric to mimic the colors of the tulle dress. I knew I could find the perfect pattern - in the right size. I'm using Butterick 6146 - which has a wonderful princess line that curves into the neckline rather than the armscye - a great way to be able to remove the excess that can show up in a v-neckline. What I didn't know was just how perfect this pattern would turn out to be. And it's from the collection by Connie Crawford, the author of that quote I found - and the person to be honored by ASDP with the Lifetime Achievement Award this year.
With only adjustments for length at the back waist and in the skirt, right out of the envelope this pattern fits like a glove. I cut a size XXL at the neck, tapered out to 1X at the bust and through the hem. I left extra seam allowances everywhere just in case, but I don't need them. The only adjusting I'll need is to take in a bit at the waist. I've never seen a better fit on a plus size bustline.
The reaction from my client is what made me smile all day yesterday. "I love it! I'm going to look good!"
Her gown is a work in progress and the wedding is about 6 weeks away, so I'll have to leave you with this teaser photo of the fabrics we chose. Until next time!